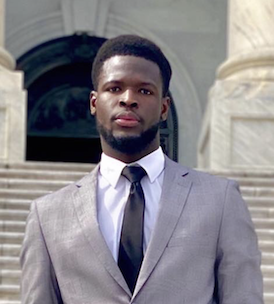 On October 19, 2022 Citizens Thinkers Writers alumnus Henry J. Seyue read Langston Hughes' poem, "I, Too" at the National Endowment for the Humanities' annual Jefferson Lecture. The Jefferson Lecture is the highest honor the federal government awards for intellectual achievement in the humanities. This year the lecturer was Andrew Delbanco, the Alexander Hamilton Professor of American Studies at Columbia University and president of The Teagle Foundation, who spoke about the issue of reparations. The lecture was given at the historic site of President Lincoln's Cottage in Washington, D.C.
Seyue participated in CTW from 2017-2018 and graduated from New Haven's Metropolitan Business Academy in 2018. Now a political science major at the University of Connecticut, he also attended Benedict College, where he was the school's first recipient of the Frederick Douglass Global Fellowship. After transferring to the University of Connecticut, he became an Honors Congressional Intern for Senator Richard Blumenthal and a fellow in Yale Law School's Access to Law School Program.
As a CTW alumnus, Seyue is part of the Teagle Foundation's Knowledge for Freedom Network, and in 2020, he was selected to the inaugural class of Teagle Humanities Fellows. He was also selected to participate in Teagle's Civic Leadership Summit.
Commenting on his experience at the NEH Jefferson Lecture, Seyue noted, "I was honored to be able to present a poem that resonated with me deeply, but I was even more honored to hear Professor Delbanco's comprehensive breakdown of the reparations debate and his ensuing guidance on the matter. Moreover, the mere setting of the lecture—President Lincoln's Cottage—made for an enriched experience. Interacting with the historical artifacts at the site, and sitting only yards from where Lincoln drafted the emancipation proclamation imbued the message with a poignancy that is unlikely to have been felt in a different setting."
Seyue will be graduating from the University of Connecticut in December and plans to attend law school next fall. 
New Haven man, 23, to read poem at national lecture series in D.C.
New Haven's Henry Seyue Reads Hughes' 'I, Too' At Jefferson Lecture